Climbing The Music Festival Ladder
Tracking Artist Hierarchy One Row At A Time
By Jordan Stovka


COLLEGE PARK, Maryland -- In June 2004, a then little-known rock duo called The Black Keys played an early Friday afternoon set on one of the smaller side stages at Bonnaroo, a not-so-prominent time slot at the long-running music festival that was then in its third year.
On the 2004 Bonnaroo promotional poster, big name acts like Bob Dylan and The Dead that scored prominent nighttime main stage spots that year appeared in large type at the very top. The Black Keys, however, were in extremely tiny type at the very bottom.

By 2011, The Black Keys were headlining Bonnaroo, with a prominent Saturday night main stage set and first-line billing on the promotional poster. In a Capital News Service analysis of three decades of lineup posters from four of the nation's biggest music festivals -- Bonnaroo, Coachella, Lollapalooza and Firefly -- no band had bigger worst-to-first rise to prominence than The Black Keys.
SEARCH YOUR FAVORITE ARTIST, 2002-2018
By Jordan Stovka
| Capital News Service
_______________________________________________
Source: Capital News Service
Music festival posters -- densely packed with dozens of band names -- are often referred to as "Hipster Vision Tests." Generally, big name acts appear in heavy type at the top, and lesser known groups are in smaller type at the bottom.

A person's musical knowledge can be inferred by how far down the poster he or she can confidently recognize artists. Someone who can go no further than Fleet Foxes on the fifth line of say, Coachella 2018, likely suffers from musical nearsightedness, whereas someone who recognizes Cherry Glazerr on line 20 of the same poster has near-perfect vision.

By gathering the information from the posters into a single, structured data set, CNS was able to explore how the musical festival lineups have changed and examine how the popularity of certain artists has evolved over time. Our analysis found that many once-unknown artists earned prominent spots only after releasing a breakout album, like The Black Keys.

The Akron, Ohio-based duo released their debut effort The Big Come Up in 2002—two years before their dead-last Bonnaroo slot—but didn't reach Billboard popularity until Brothers' "Tighten Up" peaked at #87 in January 2011, and El Camino's "Lonely Boy" reached #64 that December. Later that year, they were Bonnaroo headliners.

Our analysis also uncovered a rarefied class of performers who have only played the festivals as headliners, instead of rising through the ranks. We also found many bands who play the festivals in non-prominent positions for years, without ever rising to a headlining spot. And we identified the bands who showed up over and over again. Leading the way were The Black Keys, with 15 total appearances in the data we analyzed -- Lollapalooza (1991-2018), Coachella(1999-2018), Bonnaroo(2002-2018) and Firefly (2012-2018).

We built a data set by creating an ordered list of artists for each festival in each year, working from top left to bottom right on the festival posters. Each festival had a different total number of artists. To account for the fact that each festival in each year had a different total number of artists, we adjusted the ranking to an "Artist Position Score" on a one to 100 scale. Like golf scores, lower is better.

Here's what else we found:


Many Appearances
Cage the Elephant entered the festival scene in 2007 near the hundredth spot at both Bonnaroo and Lollapalooza, two years before their debut self titled album was released, featuring the band's most popular track to date "Ain't No Rest For the Wicked."

The group gradually worked their way up the festival ladder, most notably after the 2013 release of their fourth effort Melophobia with radio favorites "Cigarette Daydreams" and "Come A Little Closer." So much so, that in 2014 all four festivals booked the group no lower than the 32nd slot.

Cage the Elephant, Cold War Kids and Portugal. The Man trail The Black Keys in most performances, tying with 13 performances each, while My Morning Jacket closes the top five leaderboard with 12 appearances.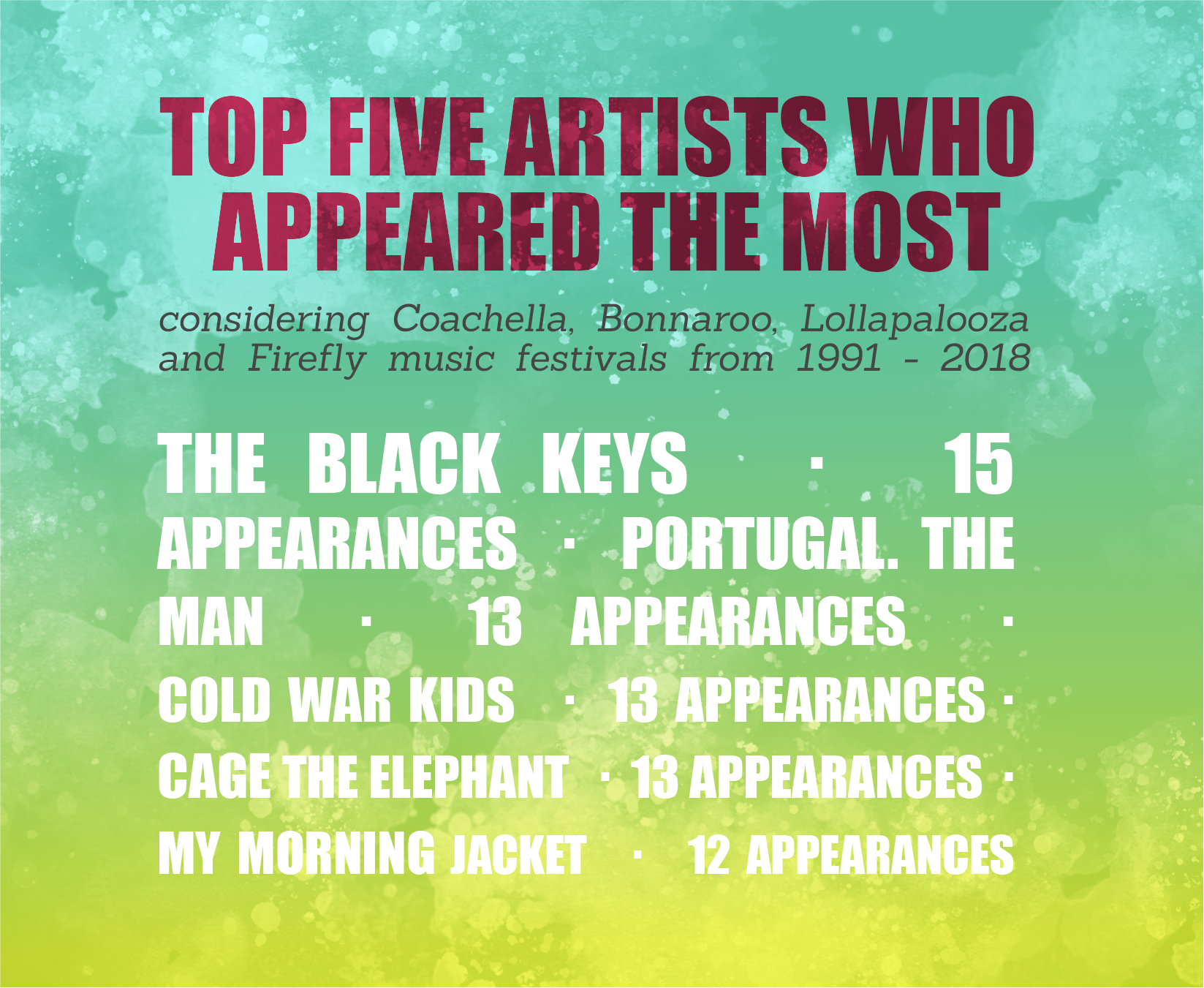 Big Jumps
Backed by charismatic frontman Brandon Flowers, The Killers released their iconic debut album Hot Fuss in June 2004—a month after playing at the bottom of Coachella's lineup. The band's most popular track "Mr. Brightside" kicked off on Billboard nearly a year later, earning a #12 spot on the Top 100 in May 2005. That same year, Lollapalooza booked the group at a 7.69 spot, and they've been headlining ever since. The Killers closely follow The Black Keys in terms of biggest jump.

Most recently, coming off their latest album release Wonderful Wonderful, The Killers headlined both Bonnaroo and Firefly this past summer at 1.35 and 4.4 spots respectively.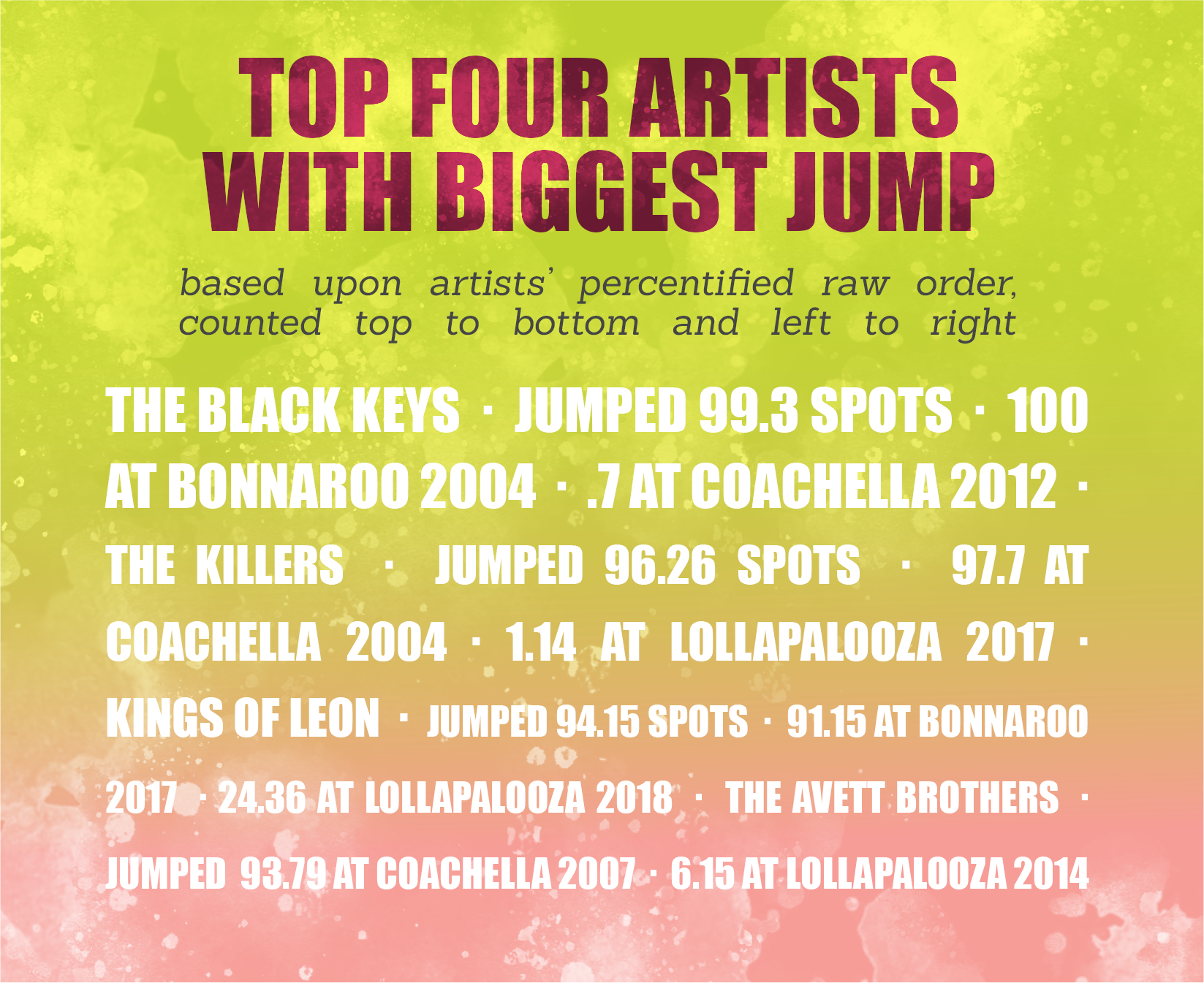 Sole Headliners
Eminem is one of 13 elite artists who have solely headlined over the course of all their performances.

The rapper maintained a #1 ranking for all six of his appearances, having joined the festival scene in 2011 with a .96 Bonnaroo slot just after "Not Afraid" and "Love The Way You Lie" hit the Billboard 100 charts the previous year. Interestingly, he and Outkast are the only hip hop artists in that headlining category, with Outkast appearing half as many times, likely because the duo disbanded in 2006.

The full group of elites consist of The Red Hot Chili Peppers, Radiohead, Eminem, Jack White, Nine Inch Nails, Paul McCartney, Pearl Jam, Outkast, Bjork, The Cure, Tom Petty & the Heartbreakers, Metallica and Soundgarden.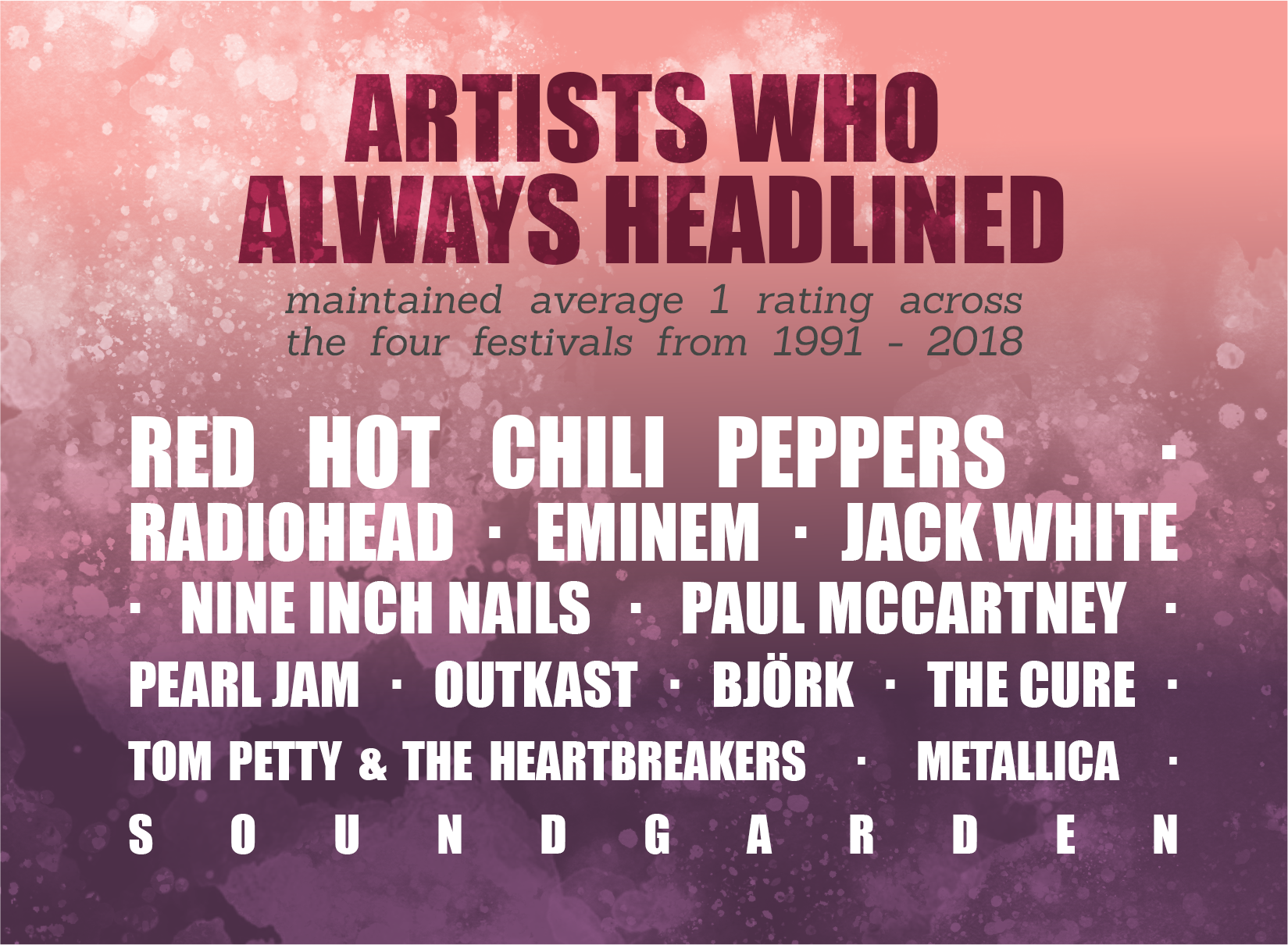 Stagnant Placement
Known for their melancholy, introspective lyricism, emo four-piece Manchester Orchestra have six studio albums under their belt, and hold the 6th most festival appearances overall with 11.

Despite the boastable number of performances, however, the indie rock group remains stagnant in terms of lineup progression, averaging only a 2.72 ranking.

Other notable members of this stagnant placement group would be the Cold War Kids, who average a 2.53 percentified spot despite their 13 appearances and Grouplove who averages a 2.4 spot with their 10 appearances.

Based of off of this data, in combination with fall 2018 Billboard, North American College and Community (NACC) and Spotify charts, these are the artists you should be looking out for this upcoming festival season: